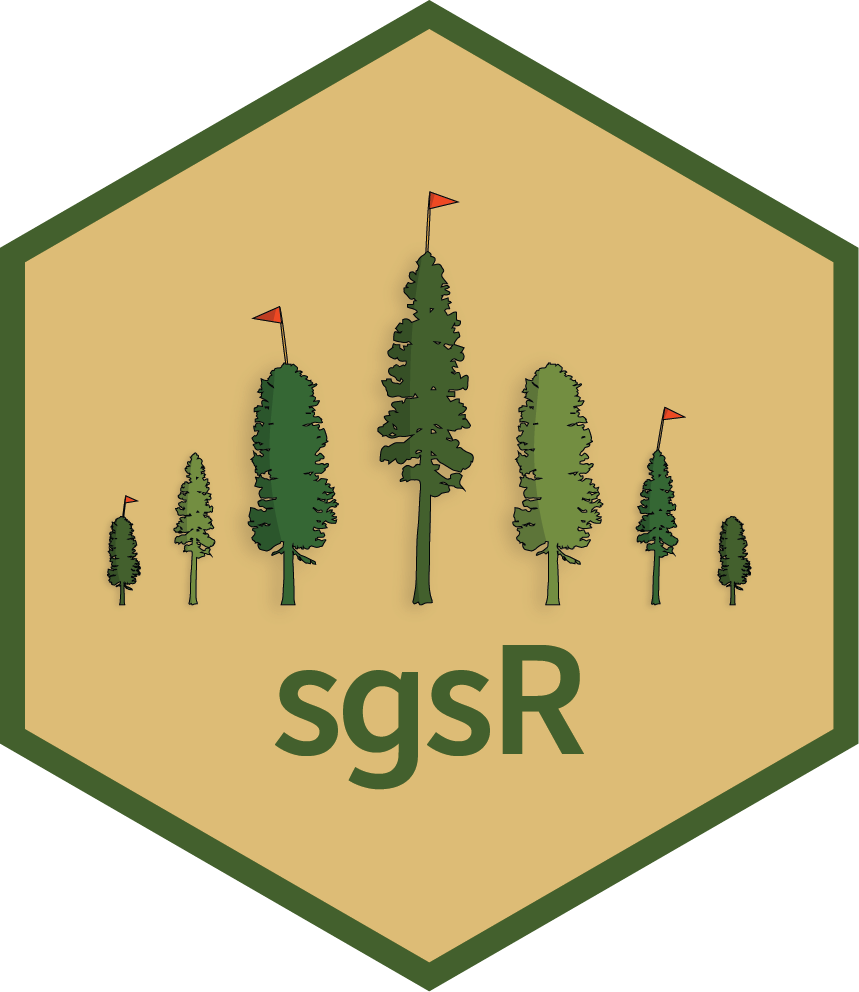 Compare sample representation within sraster strata
Source:
R/calculate_representation.R
calculate_representation.Rd
Compare sample representation within sraster strata
Arguments
sraster

spatRaster. Stratification raster.

existing

sf 'POINT'. Existing plot network.

drop

Numeric. Numeric value between 0-1 representing the sraster frequency (srasterFreq) below which strata will be dropped from comparison (e.g.. This parameter can be useful for when comparing stratum where percent coverage of strata may be ~ 0 percent and should be dropped. This could occur when mapping multiple stratifications.

plot

Logical. Plot frequency of strata coverage and sampling coverage for sraster and existing. Will return a list if TRUE.
Value
Returns a tibble where:
strata - sraster strata ID.

srasterFreq - sraster coverage frequency.

sampleFreq - Sampling frequency within sraster strata.

diffFreq - Difference between srasterFreq & sampleFreq. Positive values indicate over representation.

nSamp - Number of samples within each strata in existing.

need - srasterFreq * sum(nSamp). Total theoretical number of required samples to be representative of strata coverage. This values is rounded. It is important for the user to consider diffFreq. A small difference - e.g. 1 in sampleFreq vs. srasterFreq frequency could make the algorithm allocate or remove samples that could likely be ignored.
Examples
### --- generate example stratification ---###







#--- load ALS metrics from sgsR internal data ---#




r

 

<-

 system.file

(

"extdata"

, 

"mraster.tif"

, package 

=

 

"sgsR"

)







#--- read ALS metrics using the terra package ---#




mraster

 

<-

 

terra

::

rast

(

r

)







#--- perform stratification ---#




sraster

 

<-

 strat_kmeans

(


  mraster 

=

 

mraster

$

zq90

,
  nStrata 

=

 

6




)




#>

 K-means being performed on 1 layers with 6 centers.





### --- create existing sample network ---###







#--- simple random sampling ---#




existing

 

<-

 sample_srs

(


  raster 

=

 

mraster

$

zq90

,
  nSamp 

=

 

100




)







#--- calculate representation ---#







calculate_representation

(


  sraster 

=

 

sraster

,
  existing 

=

 

existing




)




#>

 

# A tibble: 6 × 6




#>

   strata srasterFreq sampleFreq diffFreq nSamp  need


#>

    

<int>

       

<dbl>

      

<dbl>

    

<dbl>

 

<int>

 

<dbl>




#>

 

1

      1        0.27       0.23  -

0.04

      23     4


#>

 

2

      2        0.12       0.11  -

0.010

0

    11     1


#>

 

3

      3        0.18       0.19   0.010

0

    19    -

1




#>

 

4

      4        0.09       0.1    0.010

0

    10    -

1




#>

 

5

      5        0.24       0.21  -

0.03

      21     3


#>

 

6

      6        0.09       0.16   0.07      16    -

7